November 14, 2018
Corker Convenes Roundtable on BUILD Act Implementation
Administration Officials, Members of Congress, and Key Stakeholders Discuss Establishment of New US Development Finance Corporation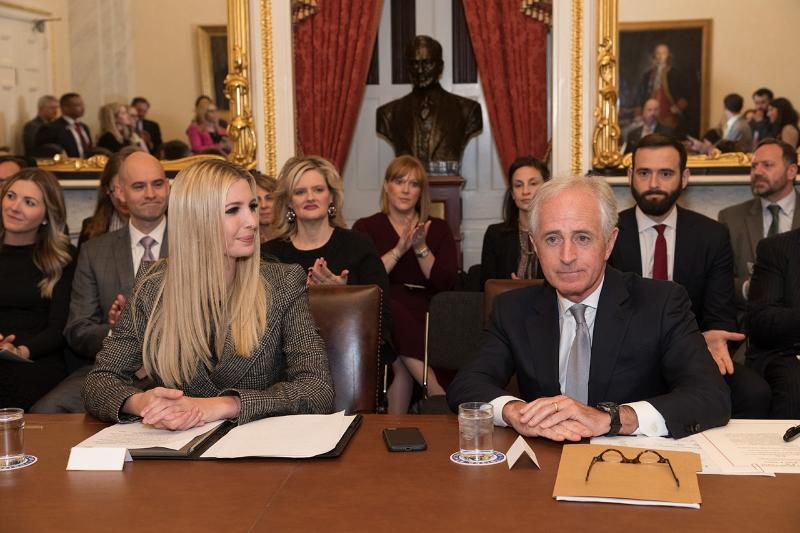 (Pictured from left to right: Ivanka Trump, Advisor to the President, and Senator Bob Corker, R-Tenn.)
WASHINGTON – U.S. Senator Bob Corker (R-Tenn.), chairman of the Senate Foreign Relations Committee, convened senior administration officials, members of Congress, and key stakeholders in international development for a roundtable to discuss implementation of the recently enacted Better Utilization of Investments Leading to Development (BUILD) Act of 2018, which was authored by Corker and Senator Chris Coons (D-Del.) in the Senate. Last month, President Donald J. Trump signed the BUILD Act into law, establishing the U.S. Development Finance Corporation (DFC) that will leverage U.S. and foreign private sector investment to promote economic growth in the developing world.
"We had a very memorable event celebrating the passage of the BUILD Act with the people who have been a part of making this happen," said Corker. "This legislation represents a massive step forward in how we deliver development aid around the world that really builds on private market principles, allowing good things to happen in the countries where we're serving while saving taxpayers money and advancing our interests around the world."
Participants in the roundtable included: Senators Chris Coons (D-Del.), Jeanne Shaheen (D-N.H.), Ben Cardin (D-Md.), and Rob Portman (R-Ohio), all members of the Senate Foreign Relations Committee; Senator Lindsey Graham (R-S.C.), chairman, Senate Appropriations Subcommittee on State, Foreign Operations, and Related Programs; Ivanka Trump, Advisor to the President; Mark Green, USAID Administrator; Ray Washburne, President and CEO of Overseas Private Investment Corporation; Shahira Knight, Assistant to the President for Legislative Affairs; Margaret Weichert, Deputy Director for Management, Office of Management and Budget; Clete Willems, Deputy Assistant to the President; Rep. Ed Royce (R-Calif.), Chairman, House Foreign Affairs Committee; Rep. Ted Yoho (R-Calif.), House Foreign Affairs Committee; and Rep. Mark Meadows (R-N.C.).
With strong support in Congress, from the administration, and among key stakeholders, the BUILD Act will create the U.S. Development Finance Corporation (DFC), assuming the activities of the Overseas Private Investment Corporation (OPIC), USAID's Development Credit Authority, USAID's Enterprise Funds, and other programs.
The DFC will have the authority to: issue direct loans, including local currency loans; issue guaranties, including local currency guaranties; provide political risk insurance; fund first losses; participate in equity investments; provide technical assistance; make limited grants to unlock larger investments; and attract private sector talent.
The DFC will prioritize support for projects in low and lower middle-income countries where it furthers U.S. national security and economic interests and where the project can be shown to have a demonstrable development outcome.
Congress will maintain oversight of the DFC by reviewing the agency's public reports on its development impact and through independent audits and the establishment of an inspector general in the corporation.
The Congressional Budget Office (CBO) estimates the act will decrease direct federal spending by $20 million over ten years.
###
---
---
Next Article
Previous Article